SCTCA High School Graduation Celebration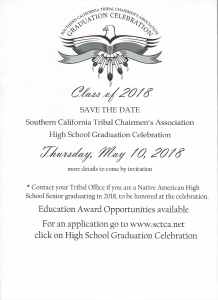 Please contact the Youth Coordinator to register: youthprograms@mesagrandeband-nsn.gov
REGISTRATION DEADLINE: MARCH 1, 2018
To apply for scholarships, please visit https://www.sctca.net/high-school-graduation-celebration 
Mesa Grande Youth Christmas Party 2017
Big thank you to the organizations/Bands/people who helped to make this year's party a great success for our youth. The youth program would like to extend a special thank you to the Native Riders MC, Rekkrs MC, and Soboba for contributing as much as they did. Please see the photos below and we want to wish everyone a Safe and Happy Christmas and a Happy New Year!
Intertribal Sports
Intertribal Sports began in southern California in the Fall of 2002 when representatives from Viejas, Barona, and SCTCA's North County Community Resource Center recognized a need for an organized, semi-competitive youth sports league. A meeting was called and a few dedicated individuals acted on this need and created the Inter Tribal Flag Football League. Five teams from four organizations participated in that inaugural season. Determined to keep the momentum going following the early success, those involved began planning for a youth basketball and softball seasons. At that time, the ITFFL was renamed Inter Tribal Sports, or ITS. All three sports leagues were consistently offered year after year, with new tribes and tribal organization joining every season.
The organization operated successfully in this grass-roots manner for five years. However, as the service area expanded, it was recognized that the more structure would be necessary to accommodate the rapid growth and to meet the demand for organized youth sports from the tribal communities. An intense two-day planning meeting was held in February 2007, at which time the ITS Board of Directors was officially created and the organization drafted its mission statement, vision, and bylaws and elected officers. Shortly thereafter, ITS became incorporated and gained 501(c)(3)non-profit status. The administrative branch of ITS was created in 2009 to assist and alleviate some of the growing burden and workload on the board, with a primary function of overseeing the day-to-day operations of the organization.
Since its inception, Inter Tribal Sports has served an estimated 3,000 youth from 22 tribal communities and currently serves over 1,000 youth per year. In addition to the three initial sports and soccer, which was added in 2011, ITS offers a wealth of enriching programs, including cultural gatherings, sports camps, group outings, and leadership activities.
---
---
---
Education Opportunities
Education of our youth is of upmost importance and we would love to see all of them succeed in their chosen fields of interest. The Mesa Grande Band of Diegueno Mission Indians are proud to offer a yearly scholarship up to $3000 per student who qualifies.
For more information on scholarships click on this link: http://mesagrandeband-nsn.gov/mesa-grande-education-committee/